IS-POLISHER
Reasons for selecting
IS-POLISHER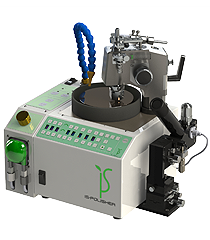 Accurately immobilizing the sample and correcting the sample orientation with good precision makes possible unprecedented finishes.
Structures previously unseen after polishing are now visible. (EBSD, etc.)
Polishing can be done without embedding.


*There are exceptions, such as soft, brittle, and small items.

Know-how can be accumulated by reproducing the conditions and settings of skillful polishing technicians.
A wide range of holders are available to immobilize a variety of small and other products.
Product List
Examples
▲ Page Top