Structure observation (EBSD)
Metal structure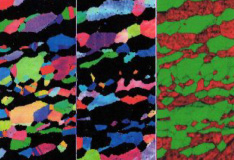 This can produce samples to be used for EBSD (Electron Back Scatter Diffraction), which conventionally has been difficult to do by polishing.
The included weight canceller is used to freely control the pressure applied to the sample to polish a range of samples from soft metal materials like aluminum, copper, and solder, to hard metal materials.
Example of sample fabrication for EBSD using the IS-POLISHER
The sample holding mechanism and weight canceller, etc., are used to perform polishing while minimizing the damage to the structural form.
When necessary, a cutter and IS-POLISHIER are used to adjust the sample to a size suitable for observation.
If the sample is small, use mounting wax, etc., to fix the sample to the table.
If the sample is large, it can be directly clamped.
Correct surface holding and load adjustment allow polishing without damaging the deep layers.
Buff polishing
A polish, like colloidal silica, used to chemically remove the layer altered by surface machining.
Chemical mechanical polishing using colloidal silica
A corrosive polish, like colloidal silica is used to chemically remove the damaged layer from the surface.
◆Sample data
Material: SUS304
Sample size: Approx. 5 mm square
Total required time: Approx. 45 min
▲ Page Top