ISPP-1000 (utility model granted)
The ISPP-1000 was developed with a space-saving design.
Inside the small form is packed excellent performance that includes angle adjustment, load control, and a swing function that can be set to a wide range of settings that are optimum when difficult material polishing and leveling are required.
The built-in microscope makes it possible to observe the conditions over time without removing the sample from the unit.
In addition, the required time can be shortened by using images for monitoring.
*Please contact us for details.
Merits and Features
Unlike conventional polishers, the polishing conditions can be numerically set, and recording these numerical values and procedures makes it possible to accumulate know-how and smoothly pass down technology.
Further, using a weight canceller makes it relatively easy to polish soft samples.
These functions allow customers a wide range of freedom in setting their own polishing conditions.
Panel operation
The IS-POLISHER is operated using the panel shown in the photograph below.
The operation can be easily set by entering the numerical values for the polishing disc rotation direction, speed, swing speed, width, time, etc.
If the required conditions, such as the numerical values, sample properties, material immobilization direction, and material size, are left registered, they can be converted into numerical values using past experience and skilled knack and used as a reference for the next polishing job.

As shown above, a variety of conditions can be set by determining the main spindle rotation direction and speed (10 levels) and swing speed (15 levels), width, and time.
Microscope observation

The sample can be moved to a microscope without being removed for observation of the polished condition. x40-x200
Polishing amount adjustment mechanism

The polishing amount adjustment mechanism (0.01 mm scale interval) is used to make fine adjustments of the lower limit position for when the sample holder is lowered during polishing. A 2μ polishing adjustment amount micro (2μ type) is available as an option.
Weight canceller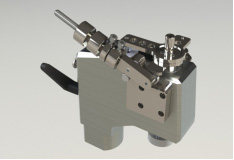 This reduces the weight of the sample holder to allow for more delicate polishing without embedding the sample.
For details refer to the weight canceller applications.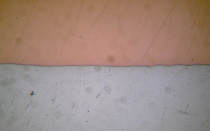 Aluminum and copper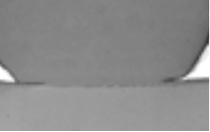 Aluminum bonding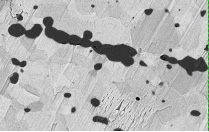 Lead Free Solder
Options
Small water supply system
This is attached to the side of the unit to provide an integrated automatic water supply function.
*The photographs show examples of attachment to the main units.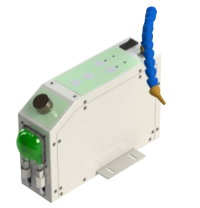 Small water supply system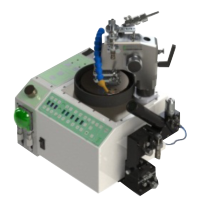 Illustration of attached state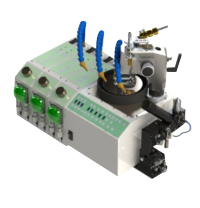 Illustration of expanded system
System rack with water supply mechanism
This system rack is equipped with a water supply mechanism that is linked with the main unit to automatically supply water and an anti-vibration table to prevent harmful external vibrations during microscope viewing at high magnification.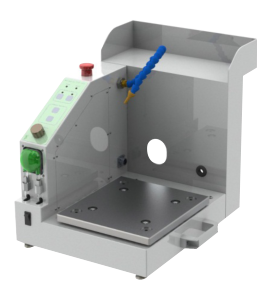 System rack with water supply mechanism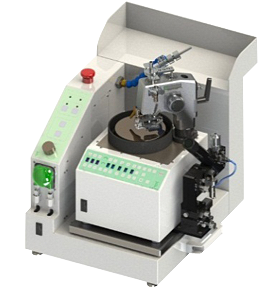 View when installed
Microscope camera unit

Images are displayed on and registered in a PC via USB. The images can be checked on the built-in monitor and directly saved to an SD card without connecting to a PC
Polishing disc (high precision type)

For high-precision polishing
Made of SUS440C
Polishing amount adjustment micro (2μ type)

Micro for polish amount adjustment with 2μm scale
High-precision type
Embedded case

This is an IC embedded case. Fabricating a case that matches the sample eliminates the use of excess embedding plastic to allow embedding using the minimum necessary plastic.
▲ Page Top